TV Studio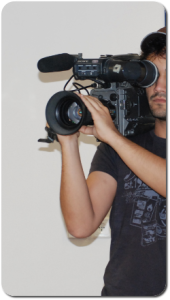 The City Studios TV Studio in a "one camera" studio equipped with all that is necessary to provide the perfect video or video broadcast. A background window provides a view to Central Tel Aviv with the Azriely towers in the main frame, the Studio also offers Green Screen services which will allow you to choose any background be it a still image background or a video background with which we will be able to provide you with the perfect desired result.
The TV studio was specially designed as a TV studio and as one, the studio provides a perfect and professional acoustic environment offering high quality broadcast and recording capabilities.
Recording and Broadcasting equipment
A high quality state of the art camera connected to the best recording and broadcast equipment available allow our TV studio to broadcast video and audio feeds directly to satellites or the internet in such a manner where the receiving end (usually international TV channel stations) receives the broadcast directly from the satellite itself requiring no mediation services and the quality is of course accordingly high.
Studio personal
In City Studios we believe that high quality equipment is only part of the equation and behind every camera and device there is a person. That's why we employ the best in the business. Our staff is highly trained and highly qualified and above all committed to provide the best results possible in shortest period possible.
Location
The view aspect of any good video is imperative. After all a video is a moving picture and what the viewer sees is what he or she will remember from the video. City Studios chose the location in the heart of Tel Aviv as its headquarters and main studio out of understanding that the view of center Tel Aviv with the Azriely towers in the background provides the perfect scene to almost every video broadcast or recording related to Israel. The view is always of a highly populated area with car traffic almost 24\7.
Green Screen
If you are not in need of the natural view from the background window in our studio, City Studios offers it's clients Green Screen services which allows the client to choose from a variety of still and video backgrounds.