PR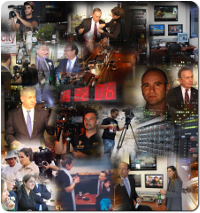 As part of the technology improvements in our world, Public Relations are now taking momentum and using more and more videos both in the broadcast media ,and of course, on the Internet.
City Studios specializes in Public Relation services to personage, corporates, corporations and organizations – especially on the Internet combining videos in websites in a professional manner.
Video is the dominant media type on the Internet and in general in our day and time. In the past, we were accustomed to see presentations, slide shows, pictures and audio files. But now, once the connection quality is sufficient, Video is the king of the Internet. People now longer "waste" time in reading text, but instead they are adopting a new habit of "watching the video".
City studios has been providing Internet video service for quite a long time and is now one of the most experienced, and expert companies in the area with the necessary tools, knowledge and personnel to get the job done and produce a public relation online campaign.
A large part of City Studios activity is based on the public relation field. We learned how to utilize the different online tools such as social networks, blogs, websites, forums etc, combined with professional image videos uploaded to those sites, in our endeavors to create the best online presence possible for our clients.
Our online PR staff is highly involved in social projects all over the world in order to help promote our interests and of course contribute as much as we can while delivering YOUR message in the best possible form.
Writing online articles and publishing them in trusted websites with high exposure to public, website based solutions and more, are only some of the tools utilized by City Studios while performing an online PR project.